BEGINNER'S TRANSFORMATION KIT (DETOX)
$

125.00 On Sale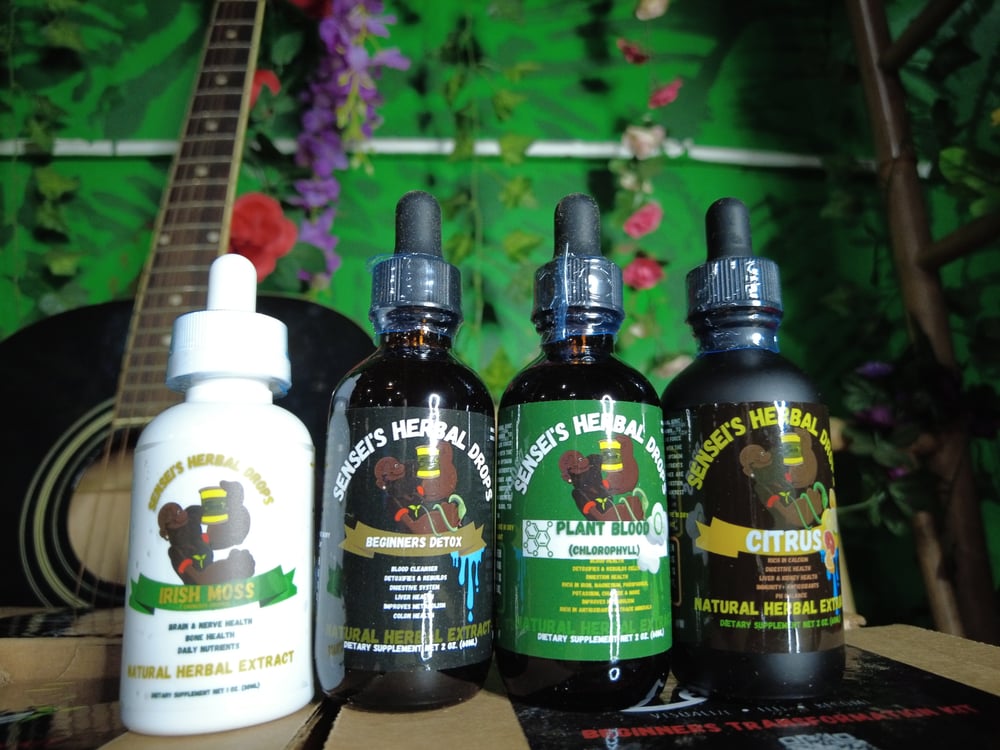 WHY ARE WE DETOXING:
WE'RE LIVING IN A WORLD, WHERE WE CONSTANTLY TAKE IN TOXINS. THEY CAN BE FROM DIET, ENVIRONMENT, TRAUMA, STRESS, AND SO FORTH AND CAN CAUSE A NUMEROUS OF HEALTH ISSUES. THIS CAN CAUSE A BUILD UP OF TOXINS, AND MUCUS CREATING AN ACIDIC OR SALT FILLED ENVIRONMENT. IN RETURN THIS CAN EFFECT THE MAINTENANCE AND REPAIR OF OUR BODY, OUR HORMONES, DIGESTIVE HEALTH, BRAIN AND NERVOUS SYSTEM HEALTH, ENERGY LEVELS, SKIN CONDITIONS, BREATHING, SEEING, THOUGHTS, CLARITY, PHYSICAL FUNCTIONING, CELL AND BLOOD HEALTH, DRAIN CONSTANT ENERGY FROM OUR BODIES, CAUSE A VARIOUS OF DISORDERS AND DISEASES. MOST HEALTH ISSUES ARISE FROM NUTRIENT MALNUTRITION OF EITHER TAKING IN TOO MUCH OR NOT ENOUGH OF THE NUTRIENTS THE BODY NEEDS. WE START HAVING A BUILD UP OF NUTRIENTS WHICH ARE NOT BEING PROPERLY FILTERED THROUGH THE BODIES DETOXIFICATION SYSTEMS, AND THEY MAY NEED ASSISTANCE. EVEN THOUGH THE HUMAN BODY IS A SELF CLEANING MACHINE, THROUGH POOR TREATMENT, SUPPLEMENTATION OUTSIDE OF DIET MAY BE NEEDED TO HELP ABSORB MORE NUTRIENTS FROM OUR DIET. WE PUT TOGETHER A KIT TO HELP THE PROCESS OF CLEANSING AND ELIMINATING TOXINS FROM YOUR BODY ( DIGESTION, CELLS, BLOOD, AND MORE), PLUS THESE NUTRIENTS ALSO HELP BUILD UP THE SYSTEMS OF THE BODY BEING RICH IN NUTRIENTS BALANCED BY NATURE. NATURAL HERBS ARE KNOWN TO BE MEDICINAL AND HAVE THERAPEUTIC PROPERTIES THAT AID IN THE HEALING, AND SUPPLYING OF NUTRIENTS TO ALL FUNCTIONS OF THE BODY. OUR PRODUCTS DIFFER FROM MANY HERBAL PRODUCTS, BECAUSE WE EXTRACT THE NUTRIENTS OF THE HERB TO MAKE THE HERB MORE EFFECTIVE IN HEALING, AND TIME OF HEALING FASTER. MOST PEOPLE HAVE DIGESTIVE ISSUES, AND THOSE WITH SEVERE DIGESTIVE ISSUES HAVE TROUBLE DIGESTION, AND ABSORBING NUTRIENTS NATURALLY BY THE BODY, SO CAPSULES WOULD'NT BE THE WAY TO GO. THIS IS VITAL BECAUSE THE DIGESTIVE SYSTEM BEING THE BRAIN OF THE BODY, DISTRIBUTES NUTRIENTS TO THE BLOOD FOR THE CELLS TO ABSORB. BY US EXTRACTING THE NUTRIENTS WE BYPASS THE DIGESTION PROCESS, AND PLACE THE NUTRIENTS DIRECTLY IN THE BLOOD READILY AVAILABLE FOR THE CELLS FOR FASTER HEALING TIMES.
BEFORE DETOXING:
A FEW THINGS WE RECOMMEND YOU DO BEFORE DETOXING IS CONSULTING YOUR PHYSICIAN TO MAKE SURE DETOXING AND HERBAL PRODUCTS ARE SAFE FOR YOU. CHECK PH LEVELS, KNOWING YOUR BLOOD PH WILL HELP YOU KNOW THE STATE OF YOUR BLOOD WHETHER ITS ACIDIC OR TOO ALKALINE (THIS STEP WIL HELP YOU IN KNOWING WHICH FOODS TO AND NOT TO EAT). ALSO KNOWING YOUR PH WILL HELP YOU KNOW WHETHER A DTEOX IS ACTUALLY IMPROVING, OR CAUSING MORE TOXINS TO BE PLACED INTO YOUR BLOOD. STORE PURCHASED PH STRIPS TO CHECK URINE AND SALIVA IS FINE FOR CHECKING LEVELS. FIND OUT WHICH NUTRIENTS YOU MAY HAVE MALNUTRITIONS IN SO YOU CAN PLAN A DIET TO BRING THE BODY TO BALANCE. CONSULT WITH SOMEONE MORE INFORMATIVE ON NUTRITION, DIET PLANNING, ETC TO HELP YOU REACH YOUR GOALS AND TO DETERMINE YOUR DAILY NUTRIENT INTAKE. WRITE DOWN YOUR HEALTH ISSUES, ANY PHYSICAL AND MENTAL ISSUES YOU MAY NOTICE, PAINS, AND SO FORTH THAT IS TAKING PLACE BEFORE CLEANSING AND THROUGHOUT CLEANSING. RESEARCH FOODS THAT MAY BE UNFAMILIAR TO YOU, SEARCH FOR RECIPES THAT SUIT YOUR DIET, AND ANYTHING ELSE YOU FEEL WILL HELP YOUR DETOXING PROCESS. PLAN THE AMOUNT OF DAYS YOU WANT TO CLEANSE, THE TYPE OF CLEANSE YOU WANT TO DO WHETHER ITS (JUICING, SMOOTHIE, ALKALINE DIET, BALANCED DIET OF VARIETY). RESEARCH THESE TYPES OF CLEANSES AND APPLY A PLAN TOTHE NUMBER OF DAYS YOU WANT TO CLEANSE. WE WILL LEAVE PRODUCTS THAT WILL HELP MAKE THE CLEANSING PROCESS MORE AFFECTIVE, AND FOOD DIET RECOMMENDATIONS BELOW. WRITE DOWN WHAT YOU WANT TO ACCOMPLISH MENTALLY, PHYSICALLY, AND SPIRITUALLY BEFORE HAND. CHOOSE AMOUNT OF MEALS YOU WILL EAT DAILY (KEEP A VARIETY), PLAN TIMES YOU WILL EAT, AND MAKE SURE YOU HAVE ANY ADDITIONAL PRODUCTS YOU MAY NEED BEFORE STARTING.
DETOX REACTIONS:
SOMETIMES CLEANSING CAN CAUSE A NUMEROUS OF REACTIONS, THATS WHY KNOWING YOUR BLOODS PH IS VITAL TO KNOWING YOUR ELECTROLYTE BALANCE. AS YOU DETOX YOUR BODY WILL START TO RELEASE TOXINS, ELECTROLYTES FROM YOUR BLOOD HELP CARRY AND REMOVE THESE TOXINS FROM YOUR BLOOD. IF ELECTROLYTE BALANCE IS OFF, AND TOXINS STEADY BEING RELEASED INTO YOUR BLOOD WIH NO WHERE TO GO, A REACTION WILL OCCUR. REACTIONS CAN CAUSE SKIN IRRITATION, CONGESTION, DIARRHEA, ACHES AND PAINS, HEADACHES, LOW ENERGY, FATIGUE, NAUSEA, SICKNESS, AND MORE. IMPORTANT TO RECORD ANY REACTIONS THAT MAY OCCUR. IF ANY ABNORMAL REACTIONS OCCUR LOWER DOSAGE, OR DISCONTINUE USAGE. DIET PLAYS A VITAL PART, PLENTY OF FLUIDS, FRUITS & VEGETABLE JUICE SHOULD BE USED WHILE CLEANSING. LIMIT OR STOP USAGE OF CITRUS FRUITS F REACTIONS OCCUR, FOR THEY ARE EXTREMELY CLEANSING.
KIT INCLUDES: 4 PRODUCTS
BENEFITS: MUCUS RELIEF, PARASITE RELIEF, PAIN RELIEF, CELL REPAIR AND PROTECTION, NUTRIENTS, VITAMINS, MINERALS, TRACE MINERALS, DETOXIFICATION, ANTIOXIDANTS, SKIN & CELL HEALTH AND REPAIR, IMMUNE HEALTH, BRAIN HEALTH, NERVOUS SYSTEM HEALTH, FOCUS, ENERGY, BLOOD HEALTH, BONE HEATH, TISSUE AND BONE HEALTH, DIGESTION HEALTH, COLON HEALTH, STOMACH HEALTH, THYROID HEALTH, REPRODUCTIVE SYSTEM, CHEMOTHERAPY RELIEF, EYE HEALTH AND MORE.
- BEGINNERS DETOX DROPS : ( MILD DETOX FOR INTESTINES & BLOOD CLEANSING, AND MORE)
- CHLOROPHYLL DROPS : ( BLOOD BUILDER, DETOXIFICATION OF THE BODY, CELL HEALTH & REPAIR, BONE HEALTH & MORE, CANCER PREVENTION)
- CITRUS DROPS: ( NUTRIENT ABSORPTION, CLEANSING, BONE HEALTH, SKIN AND CELL HEALTH, CELL PROTECTION, CANCER PREVENTION AND MORE)
- IRISH MOSS DROPS: ( CELL HEALTH, BRAIN & NERVE HEALTH, DAILY NUTRIENTS, FIGHTS INFLAMMATION, AND MORE)
SIZE BOTTLE: 2oz (60ml)
SERVINGS: 90 PER BOTTLE/1 MONTH
SHELF LIFE: 5-20 YEARS
RECOMMENDED USE: TAKE 10-20 DROPS UP TO 3X A DAY, OR TAKE DAILY AMOUNT IN ONE SERVING (1 FULL DROPPER)
DIRECTIONS: ADD RECOMMENDED AMOUNT IN 8OZ OF WATER OR LEMON JUICE, OR PLACE DIRECTLY UNDER TONGUE. TAKING DIRECTLY BY MOUTH CAN CAUSE A STRONG BITTERNESS, AND BURNING SENSATION. STORE IN COOL DRY AREAS, AVOID DIRECT SUNLIGHT. DO NOT REFRIGERATE. WE RECOMMEND TAKING PRODUCTS AT VARIOUS TIMES THROUGHOUT THE DAY, OR AT LEAST AN HOUR APART. FOR THIS PARTICULAR SET WE RECOMMEND YOU TAKE CHLOROPHYLL AND CITRUS DROPS FIRST, THEN THE BEGINNERS DETOX, THEN IRISH MOSS. BEST DURING CLEANSING IS TAKING THE COMPLETES DAY SERVING OF EACH AT ONCE.
WHAT TO AVOID WHILE DETOXING:
BOXED OR CANNED FOODS, FOODS RICH IN ADDED SUGARS, ADDED INGREDIENTS, FROZEN FOODS, MEAT AND DAIRY PRODUCTS, FOODS HIGH IN SATURATED FATS, UNNATURAL SALTS, HIGH CALORIE FOODS, FOOD DYE, PRESERVATIVES, FAST FOODS, UNSEEDED FRUITS, POP, JUICE (EXCEPT NATURAL FRUIT AND VEGETABLE JUICES, CAFFEINE, STARCHY FOODS BESIDES VEGETABLES (CHIPS, RICE EXCEPT WILD GRAIN, CEREAL, OATS, BREAD, POTATOES) MIXED SEASONINGS (UNLESS INGREDIENTS ARE NATURAL), HIGH SODIUM FOODS, PRE PACKAGED FOODS (UNLESS YOU PACKAGED IT), ARTIFICIAL FLAVORING, FOODS THAT YOU DON'T UNDERSTAND THE INGREDIENTS, DRUGS & ALCOHOL,
HIGH CHOLESTEROL FOODS, COOKING IN WATER UNLESS SOUPS OR DRINKING THE JUICES, OVERCOOKING FOODS, EATING COLD OR HOT FOOD, EATING AND DRINKING AT THE SAME TIME, GMO FOODS, FOODS WITH LONG SHELF LIFE, SPICY FOODS, JUNK FOODS, FRIED FOODS, OVER THE COUNTER DRUGS, MEDICINE IF YOU CAN (CONSULT WITH DOCTOR), NEGATIVE ENVIRONMENTS, NEGATIVE PEOPLE, LIMITED OR NO TV, SOCIAL MEDIA, OR OTHER ELECTRONICS, UNNATURAL SKIN AND HAIR PRODUCTS, ALLERGENS, EATING LATE, OVER EATING
THINGS TO DO TO IMPROVE EXPERIENCE:
EAT A BALANCED DIET IN RECOMMENDED AMOUNTS OF NUTRIENTS (SEEDED FRUITS/ MAINLY MELONS, BERRIES, AND CITRUS FRUITS, NATURAL VEGETABLES, WILD GRAINS, LEGUMES, FLUIDS, NUTS & SEEDS
EXERCISE DAILY
MEAL PLAN & PREP
CHECK AND TEST PH LEVELS ONCE A WEEK
PAY ATTENTION AND RECORD HOW YOU FEEL PHYSICALLY AND MENTALLY
MEDITATE
DRINK APPROPRIATE AMOUNT OF FLUIDS
KNOW YOUR DAILY FOOD INTAKE RECOMMENDATIONS
READ MORE
EAT MORE WATER PRODUCING FOODS
USE SEASONINGS FROM FRESH HERBS
EAT MORE RAW VEGETABLES ALONE OR WITH COOKED MEALS
PLAN YOUR DAYS, SET FOOD REMINDERS, SLEEP TIMES, AND ANY OTHER ACTIVITIES THAT FILL YOUR DAY
EAT BETWEEN 12PM-8PM
CHEW FOOD THOROUGHLY WHILE EATING
EAT SMALLER MEALS, TAKE IN MORE FLUIDS IN THE FORM OF SHAKES, RAW JUICES, SOUPS, ETC TO HLP DIGESTIVE SYSTEM BREAK DOWN FOODS, ESPECIALLY IF THERE IS DIGESTION ISSUES PRESENT.
USE NATURAL SALTS LIKE PINK SALT, BLACK SALT, SEA SALT. WATCH YOUR INTAKE
SATISFY YOUR TASTE BUDS WITH FOODS OF THOSE CHOICES ( SALTY, BITTER, SWEET)
LENGTH OF DETOXING:
NO TWO BODIES ARE THE SAME, SO DETOXING LENGTH WON'T BE THE SAME FOR EVERYONE. GETTING TESTED REGULARLY, PAYING ATTENTION TO BEHAVIORS, PRODUCTIVITY, MENTAL CLARITY, PHYSICAL ATTRIBUTES, PAIN FACTORS, MOVEMENT, ETC CAN WARN YOU THAT YOU NEED TO CLEANSE. GO BASED ON BODIES BALANCE, AND FEELINGS PHYSICALLY, MENTALLY, SPIRITUALLY. IF CONDITIONS ARE PRE-EXISTING GO BASED ON HEALING
ADDITIONAL PRODUCTS THAT AID IN DETOXING: (CAN BE FOUND IN YOUR LOCAL HEALTH MARKETS, OR SEARCHED ONLINE)
"LIQUID BENTONITE" WHICH IS RICH IN CALCIUM AND "PSYLLIUM HUSK POWDER" WHICH IS RICH IN FIBER COMBINED IN WATER OR ORGANIC APPLE JUICE TO MAKE A DETOX SHAKE WILL IMPROVE RESULTS TREMENDOUSLY. SONNES 7 IS A GOOD BRAND TO TRY FOR THE LIQUID BENTONITE, AND THERE ARE VARIOUS PSYLLIUM HUSK POWDER PROVIDERS OUT THERE. YOU MAKE SHAKES BY MIXING 1TBSP OF LIQUID BENTONITE, 1TSP OF PSYLLIUM HUSK POWDER IN 8 OZ OF WATER OR ORGANIC APPLE JUICE AND DRINK. DON'T LET IT SIT (IT WILL START TO THICKEN). DRINKING THESE WILL HELP ABSORB ANY HEAVY METALS, AND RELEASE THEM IN YOUR BOWEL MOVEMENTS. AVOID EATING OR TAKING ANY SUPPLEMENTS UP TO AN HOUR BEFORE OR AFTER TAKING SHAKES. 1-5 SHAKES A DAY CAN BE DONE, THE MORE FOOD THE LESS SHAKES, THE LESS FOOD TAKE MORE SHAKES. STARTING OFF I WOULD SAY 1-3 SHAKES A DAY IS APPROPRIATE. IF DETOXING IN PHASES SUCH AS WEEKS, EACH WEEK GO UP A SHAKE AND DOWN A MEAL OR JUST ADD AN ADDITIONAL SHAKE TO YOUR DAILY REGIMEN.
NATURAL PROBIOTIC- THIS WILL HELP WITH HEALTHY GUT BACTERIA, YOUR FOOD PROVIDES THESE NUTRIENTS ALSO. RECOMMENDED IF YOU FEEL YOU NEED
DISCLAIMER: WE DO NOT INTEND TO TREAT, CURE, OR DIAGNOSE ANY DISEASES. WE FOCUS SOLEY ON NUTRITION OF THE BODY, AND WE LET THE BODY HEAL ITSELF. WE'RE NOT DOCTORS OR PRACTITIONERS AND WE HIGHLY RECOMMEND YOU CONSUT WITH ONE BEFORE TAKING ANY HERBAL SUPPLEMENTS. OUR PRODUCTS HAVE NOT BEEN TESTED OR EVALUATED BY THE FDA
Share