CHLOROPHYLL DROPS
$

35.00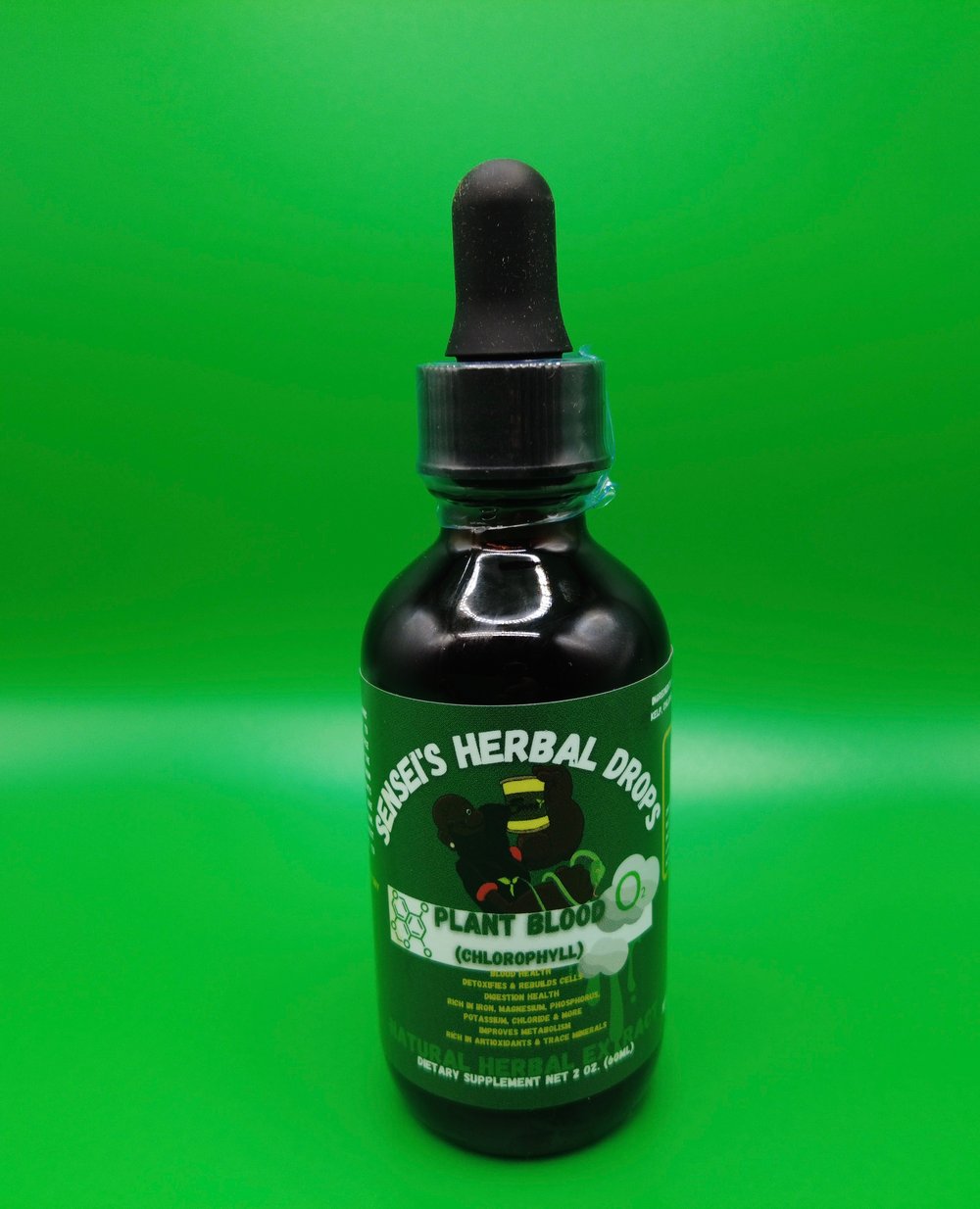 WHAT AN AMAZING RELATIONSHIP THE HUMAN BODY SHARES WITH NATURE, AT SOME POINT YOU'LL AGREE WE'RE AT ONE. CHLOROPHYLL IS A NATURAL COMPOUND FOUND IN PLANTS, AND IS WHAT GIVES PLANTS ITS COLOR GREEN, AND THE GREENER THE STRONGER THE ABILITY TO ABSORB LIGHT/ENERGY (FOOD) FROM THE SUN. CHLOROPHYLL IS MAINLY FOUND IN GREEN LEAFY VEGGIES LIKE "PARSLEY' WHICH IS ONE THE HERBS IN THIS PRODUCTS, AND MAINLY ALGAE WHICH ALSO IS INCLUDED IN THIS PRODUCT FROM KELP. DID YOU KNOW THE ONLY DIFFERENCE BETWEEN THE BLOOD OF PLANTS & HUMANS IS ITS CENTER ELEMENT. THE HUMAN BODY CENTER ELEMENT BEING IRON, AND PLANTS MAGNESIUM WHICH IS GOOD FOR HEART HEALTH, ALKALIZING THE BODY, AND A NUMEROUS OF OTHER PROCESSES. CHLOROPHYLL IS KNOWN TO PROVIDE OXYGEN TO THE CELLS, AND HELPS WITH THE PROCESS OF REBUILDING ESPECIALLY FOR THOSE THAT HAVE HAD CANCER ESPECIALLY AFTER RADIATION, OR IS DEALING WITH THIS DISORDER AND OTHERS. CHLOROPHYLL IS KNOWN TO BE GREAT FOR DETOXING, AN EXCELLENT DEODORIZER, AIDS IN DESTROYING HARMFUL BACTERIA, GREAT FOR BLOOD & HEART HEALTH, RICH IN ANTIOXIDANTS WHICH HELPS FIGHT FREE RADICALS WHICH CAUSE CANCER, CHLOROPHYLL IS ALSO KNOWN TO REMOVE HARMFUL METALS FROM YOUR BLOOD SUCH AS MERCURY, AND OTHERS WHICH CAN CAUSE NERVE POISONING, POISONING OF SYSTEMS OF THE BODY, AND MORE. FOR THOSE OF YOU THAT DON'T EAT A DIET RICH IN GREEN LEAFY VEGETABLES, HAVE POOR DIGESTION, BLOOD ISSUES, CANCER, ETC OR JUST LOOKING TO IMPROVE YOUR HEALTH, THIS IS THE PRODUCT FOR YOU. CHLOROPHYLL DROPS CAN EASILY BE TAKEN BY JUST ADDING A FEW DROPS IN YOUR WATER THROUGHOUT THE DAY AND GO. A LITTLE PLANT BLOOD, CAN CHANGE THE STATE OF YOUR BLOOD FOREVER.
SERVINGS PER BOTTLE: 90
SERVINGS PER DAY: 3
SERVING SIZE: .50 ML
DIRECTIONS: ADD 1 SERVING TO 8OZ OF WATER 3 TIMES A DAY. CHILDREN CAN TAKE ALSO IN HALF ADULT DOSAGE, OR ADJUST DOSAGE ACCORDING TO WEIGHT. USUALLY 1 DROP PER 5 POUNDS IS GOOD, UNTIL DAILY DOSAGE IS MET.
Share