DAILY HEALTH MINERAL HERBAL DROPS " COMPLETE"
$

40.00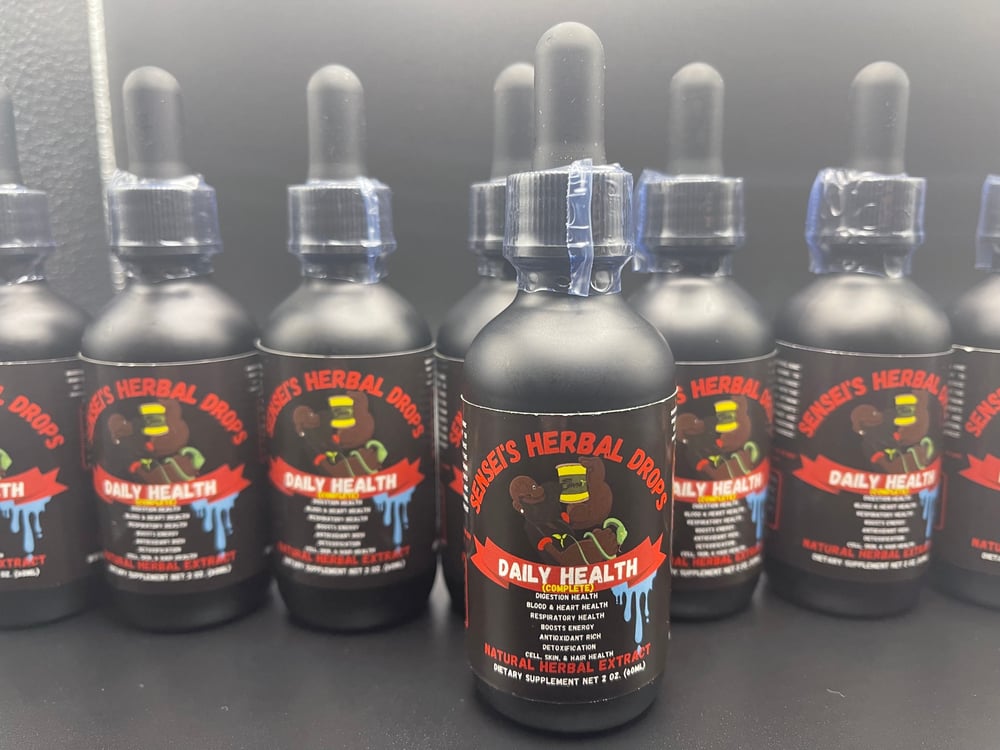 THESE REPLACED THE MINERAL PILLS (multivitamins) ! LOOKING FOR THAT PRODUCT THAT HAS EVERYTHING YOUR BODY NEEDS DAILY? (ALKALIES, TRACE MINERALS, ACIDS, AND MORE)AS YOU KNOW FOOD PLAYS A VITAL ROLE IN THE STATE OF OUR HEALTH, OF OUR SICKNESS, AND WHAT WE NEED TO OPERATE DAILY SUCH AS ( WALK, TALK, THINK, ETC). THROUGH POOR DIET WE ACCUMULATE MORE WASTE THAN WE DO NUTRIENTS, THE NUTRIENTS FROM THE FOODS IS WHAT HELPS ELIMINATE THIS WASTE. MOST HEALTH ISSUES ARE CAUSED BECAUSE OF NUTRIENT IMBALANCES IN THE BODY WHICH CAUSES YOU TO BE TOO ACIDIC OR ALKALINE. OUR BODY IS ALWAYS IN A FIGHT TO BALANCE AND CREATE HARMONY BETWEEN THESE ACIDS AND ALKALINE MATERIAL, FOR THESE SUBSTANCES COMBINED IS WHAT CREATES THE ELECTRICAL SPARK THAT GIVES YOU LIFE FORCE. THE SAME NUTRIENTS WE NEED, ARE THE SAME NUTRIENTS THAT MAKE UP THE EARTH, AND THE ONLY WAY WE CAN OBTAIN THEM FOR OUR USES IS THROUGH PLANTS. IN THIS FORMULA, I'VE COMBINED THE PERFECT HERBAL COMBINATION TO CREATE THAT BALANCE IN YOUR BODY, WHICH IN RETURN WILL BRING YOU HARMONY. DUE TO OUR DRAINING LIFESTYLES (WORK, KIDS, STRESS, RELATIONSHIPS, ENVIRONMENT, PAST TRAUMA, SCHOOL, ETC..) CAN CAUSE US TO BECOME IMBALANCED, AND THROW OUR HORMONES OFF, WHICH CREATES ISSUES MENTALLY, PHYSICALLY, AND SPIRITUALLY. SO IT'S VITAL WE ARE REPLACING ALL THOSE PRECIOUS NUTRIENTS AND ACIDS THAT WE LOSE DAILY, AND CAN'T OBTAIN FROM DIET BY IT EITHER BEING POOR, OR DIGESTIVE ISSUES PRESENT. ONCE THESE LEVELS ARE RESTORED THE LIFE FORCE IN YOUR BODY IS ALSO. THIS COMBINATION IS GOOD FOR DIGESTION (LIVER, INTESTINES, COLON), CELL HEALTH, BLOOD HEALTH, MENTAL HEALTH, LACK OF FOCUS, HORMONES, PH BALANCE, HEART HEALTH, LACK OF ENERGY, SEXUAL PERFORMANCE, BRAIN & NERVE HEALTH, LUNG HEALTH, CLEANSING, AND MORE. TAKING IT IN A HERBAL EXTRACT GUARANTEES THE NUTRIENT ARE DIGESTED IN THE MOUTH, AND PLACED STRAIGHT INTO THE BLOOD FOR IMMEDIATE AVAILABILITY TO YOUR CELLS FOR FASTER RESULTS. RICH IN POTASSIUM, PHOSPHORUS, SILICA, CALCIUM, IRON, AND ALL THE OTHER VITAL NUTRIENTS YOU NEED.
ACTIVE INGREDIENTS: BURDOCK, YELLOW DOCK, PARSLEY, IRISH MOSS, LILY, DANDELION, SOURSOP, RASPBERRY, HAWTHORN BERRY, AND MORE.
BOTTLE SIZE: 2OZ. (60ML)
SERVING SIZE: 10-20 DROPS 3X A DAY. FULL DROPPER IF LEVELS ARE LOW, AND RESTORE BACK TO NORMAL SERVING ONCE RESTORED. KIDS CAN TAKE IN HALF OF ADULT DOSAGES.
SHELF LIVE: 20 YEARS
DIRECTIONS: ADD DROPS TO SMALL AMOUNT OF WATER, OR PLCE DIRECTLY UNDER TONGUE. TAKING DIRECTLY BY MOUTH MAY BE A LITTLE BITTER.
Share