IRON DROPS
$

65.00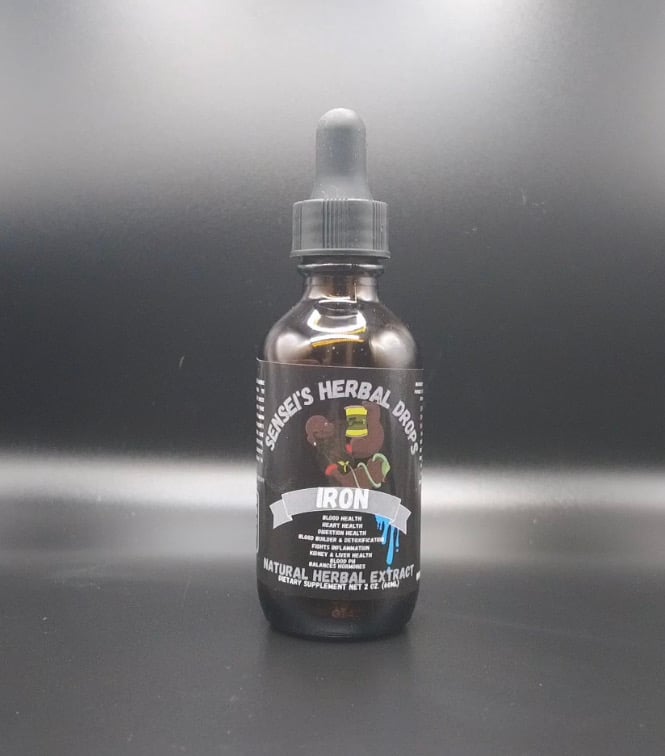 The first step to correcting any health condition is making sure that the proper iron is in the blood. When there is an imbalance of iron blood ph becomes imbalanced, digestion is weakened, poor circulation, inflammation takes place, chronic disorders and more. Blood runs through every system in your body, so the cleanliness of it is important. Iron is what keeps the cells oxygenated, in order to keep the life of your organs, and other systems operating, and at a stable temperature. Plants such as yellow-dock, burdock, parsley, and more which is found in this formula, has the richest source of iron on this earth, and nothing can compare. Plant iron is absorbed through the nutrients in the soil, molecular compounded through the power of nature, and easily available to the cells being soluble unlike other over the counter products claiming to be true iron products. Once iron levels are improved, many health conditions are improved in the process also such as heart conditions, liver and digestion, cell health, reproductive system health, skin health, hair health, blood sugar levels, regulate blood pressure, rid of boils and eczema, and more.
Bottle size : 2 oz (60ml)
Servings: 90
Serving size: .5ml
Directions. Take 3 servings per day in 8oz of water. For quicker results, for severe low iron levels increase dosage to 1ml until levels are restored.
"Note" iron is better absorbed into the body, with calcium rich foods or a calcium rich supplement. Your diet plays a major part also, while taking herbs. Make sure you have a balanced diet in vegetables, fruits, natural grains, legumes, and more. Proper diet will help hers therapeutic affect!
Legal disclaimer: our products aren't intended to cure, prevent, or treat disease. These statements have not been evaluated by the FDA. Our sole focus is restoring nutrients in the body, we recommend seeing a healthcare provider before taking any herbal supplements.
Share